ABOUT US
ONE STOP ACCESS TO OVER 100 CINEMA WEBSITES
The Film Cooperative is a network of over 100 independent cinema websites. It offers distributors the opportunity to promote their films in most prominent positions, using sales-driving ads that link directly to booking.
Film and lifestyle orientated brands use the network to cost-effectively reach a highly engaged online film audience.
The ads and trailers on this page are for recent campaigns that we have run or will be running shortly.  In addition to running the advertising we can also act as a single point of access to these cinemas for distributing trailers, social media assets and leveraging added-value coverage for films and brands.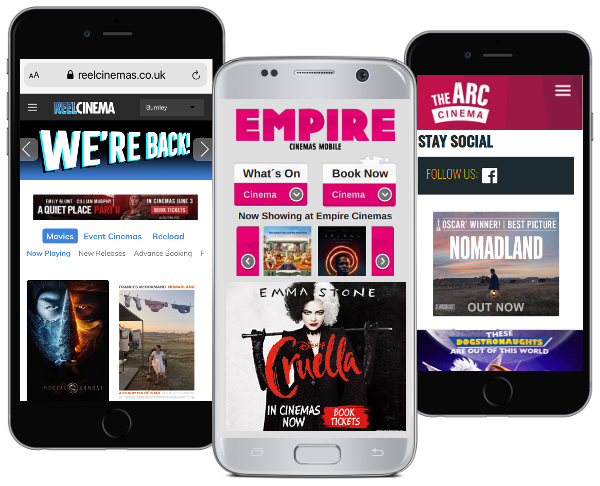 People Just Do Nothing – Big In Japan
Since the end of their pirate radio station, life has been quiet for the Kurupt FM boys, but everything is about to change. News reaches them that one of their songs has been used on a popular game show in Japan.
They've made it!  Their music is reaching hundreds of thousands of people!
Malignant
Every kill brings him closer to you.
Watch the new trailer for Malignant – from James Wan the Director of Saw, Insidious, and The Conjuring. In cinemas September 8.
#MalignantMovie "Malignant" is the latest creation from "Conjuring" universe architect James Wan ("Aquaman," "Furious 7"). The film marks director Wan's return to his roots with this new original horror thriller.
INDEPENDENT CINEMA MAGAZINE

We work closely with Onscreen magazine, the leading film magazine for independent cinema.  Onscreen covers many of the same cinemas so you can get your ads into print as well as online.
Published bi-monthly
Print run 100,000 per issue
70+ cinemas covered
Preferential rates when booking OnScreen and The Film Cooperative Network together.
JOIN US
SUPPORTING CINEMA WEBSITES
The Film Cooperative was set up over 6 years ago to provide cinema websites with an additional online revenue stream to complement their onscreen and in-foyer ad revenue.  It provides quality brand ads from market leading suppliers and also higher value campaigns from distributors and film or lifestyle orientated brands who are happy to pay a premium for reaching a known cinema-going audience in a high quality environment.
Unlike most ad serving solutions we are not a faceless algorithm. We have humans to help you implement our service or to talk to in the unlikely event that you have a query.  We are very easy to deal with and offer prompt and regular payment.

NEW CINEMA WEBSITES ARE WELCOME
We're always looking for new cinema exhibitors to join the network – the bigger we are the better we can be!
 julia@thefilmcooperative.co.uk
To download our Media Spec as a pdf document, please click here.