ABOUT US
ONE STOP ACCESS TO OVER 100 CINEMA WEBSITES
The Film Cooperative is a network of over 100 independent cinema websites. It offers distributors the opportunity to promote their films in most prominent positions, using sales-driving ads that link directly to booking.
Film and lifestyle orientated brands use the network to cost-effectively reach a highly engaged online film audience.
The ads and trailers on this page are for recent campaigns that we have run or will be running shortly.  In addition to running the advertising we can also act as a single point of access to these cinemas for distributing trailers, social media assets and leveraging added-value coverage for films and brands.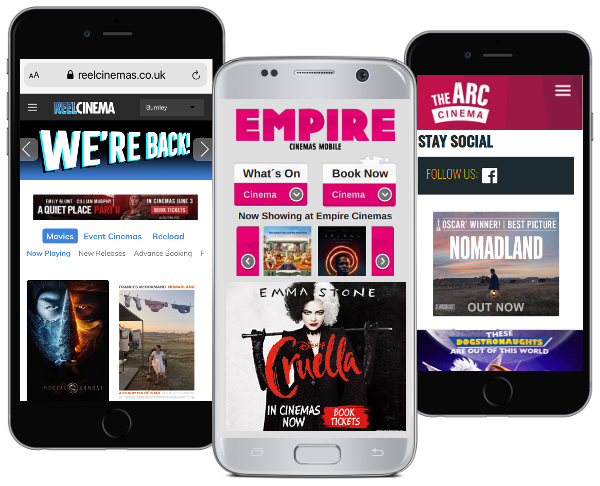 Scream
Twenty-five years after a streak of brutal murders shocked the quiet town of Woodsboro, a new killer has donned the Ghostface mask and begins targeting a group of teenagers to resurrect secrets from the town's deadly past.
NeveCampbell ("Sidney Prescott"), Courteney Cox ("Gale Weathers") and David Arquette ("Dewey Riley") return to their iconic roles in Scream.
Jackass Forever
Celebrating the joy of being back together with your best friends and a perfectly executed shot to the dingdong, the original jackass crew return for another round of hilarious, wildly absurd, and often dangerous displays of comedy with a little help from some exciting new cast.
#JohnnyKnoxville and the team push the envelope even further on February 4 in #JackassForever.
Sing 2
This January, the new chapter in Illumination's smash animated franchise returns with big dreams and spectacular hit songs as can-do koala Buster Moon and his all-star cast of animal performers prepare to launch their most dazzling stage extravaganza yet …in the glittering entertainment capital of the world.
There's just one hitch: They first have to persuade the world's most reclusive rock star—played by legendary music icon Bono, making his animated film debut – to join them.
INDEPENDENT CINEMA MAGAZINE

We work closely with Onscreen magazine, the leading film magazine for independent cinema.  Onscreen covers many of the same cinemas so you can get your ads into print as well as online.
Published bi-monthly
Print run 100,000 per issue
70+ cinemas covered
Preferential rates when booking OnScreen and The Film Cooperative Network together.
JOIN US
SUPPORTING CINEMA WEBSITES
The Film Cooperative was set up over 6 years ago to provide cinema websites with an additional online revenue stream to complement their onscreen and in-foyer ad revenue.  It provides quality brand ads from market leading suppliers and also higher value campaigns from distributors and film or lifestyle orientated brands who are happy to pay a premium for reaching a known cinema-going audience in a high quality environment.
Unlike most ad serving solutions we are not a faceless algorithm. We have humans to help you implement our service or to talk to in the unlikely event that you have a query.  We are very easy to deal with and offer prompt and regular payment.

NEW CINEMA WEBSITES ARE WELCOME
We're always looking for new cinema exhibitors to join the network – the bigger we are the better we can be!
 julia@thefilmcooperative.co.uk
To download our Media Pack as a pdf document, please click here.